Remodeling Returns
Realtor magazine recently published an article that breaks down exactly what gets buyers excited about a property, and what sellers should be focusing on when they are jazzing up their houses before listing.
The study, or "Remodeling Impact Report," done by the National Association of Realtors (NAR) and the National Association of the Remodeling Industry (NARI) evaluated resale value and customer satisfaction regarding upgrades such as kitchen and bath renovations, master suite, basement and attic conversions, new or refinished flooring, and HVAC replacement, among others.
What to expect when you invest in your property: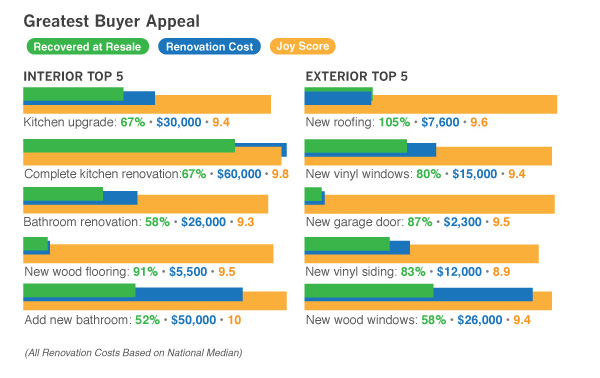 Never Move Without...
...Team Gale! We kid, we kid. But really, folks, we're your best bet for every aspect of real estate in southeastern NC.
Buying a home is among the greatest financial investments you will make in your life, and moving is among the most stressful. There are several items to make sure you have ahead of a move, whether it's across town or across the country!
WorkHacks blogger Julia Roy moved with her husband from New York City to San Diego last spring. The productivity queen weighed her options on how best to move their entire lives from one coast to another, finally settling on the PODS company to assist.
Roy's recommended items for a smooth move:
1. Colored Tape - Color coding your boxes will make unpacking SO much easier!
2. Banker's Boxes - You'll appreciate having handles
3. Retractable Utility Knife
4. Tape Gun
5. Bubble Wrap
6. Rubber Bands
7. Furniture Blankets - Protect your stuff! You may have last minute items to load and no boxes of size, but fear not, they can be blanketed and banded them.
8. Mover's Dolly - Wheeling around five boxes versus carrying individually. No brainer!
9. Plastic Stretch Wrap - You don't want to
Click the coupon below for an exclusive offer for Coldwell Banker customers!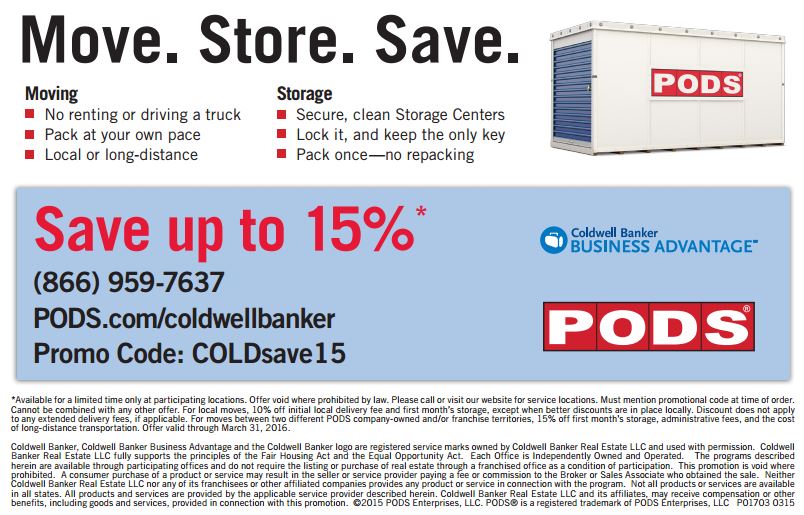 5 Mistakes to Avoid When Selling Your House
A 2014 survey by The National Association of Realtors (NAR) revealed that on average, homeowners reside in the same house for a decade . The sentimentality of the homeowner upon listing can be a hindrance, but an experienced broker can help you navigate the emotions on either side of the contract.
Currently, nationwide, it is a seller's market. Here are five points to consider when selling your house so that you can get the best price in the shortest amount of time.
1. What you think your home is worth and the price you can sell it for are two very different numbers. Properties that are overpriced at the onset tend to eventually sell at a lower price than the would have if they'd been appropriately priced in the first place. Even in markets where inventory is tight, sellers need to be careful not to get too greedy when picking a listing price.
2. Professionally staged homes can sell five to seven times faster than non-staged homes, according to the Real Estate Staging Association. De-cluttering and cleaning thoroughly are a must, cosmetic fixes and lighting are important, and repainting with a neutral color or professional landscaping are worthwhile as well.
3. You can make your buyers happy while also getting the price you need by being willing to accept slightly less than the asking price for your house. Agreeing to concessions like paying closing costs, including appliances, or making certain repairs can sweeten the deal.
4. Full disclosure is the best way to avoid a lawsuit. Trying to cover up serious flaws could come back to haunt you later. If you aren't up front about your home's issues, the buyer may well discover them during the home inspection. Price your home appropriately given its condition and document the problems you're aware of, and have your buyer sign off on them.
5. Savvy sellers have contingency plans in place. To avoid getting stuck with two mortgages at once, not having a place to live, or how to protect yourself if a deal falls through. You may want to prepare to find temporary housing in case your home sells quickly. If there are multiple people interested in your house, you may be able to accept back-up offers.
TEAM GALE is the #1 Listing and #1 Sales Team at Coldwell Banker Sea Coast Advantage in southeastern North Carolina. We have agents on duty daily to answer all your real estate questions! We are in touch with local lenders, attorneys, builders, and other experts to help you withe every facet of buying and owning a home.
Our agents are well-versed in the market trends of the Cape Fear region and are happy to meet with you to discuss your options for buying, selling, or investing in real estate.

Call today and ask about scheduling a free, no obligation market analysis of your property!

Call today! 910-541-1212