Mark Your Calendars!
Mark Your Calendars!
Written by Blake Sayers
What:  Household Hazardous Waste (HHW) Collection Day!
When:  March 30th, 2013 from 9:00 am-2:00 pm
Where:  Wilmington International Airport- Customs Building (1987 Hall Drive)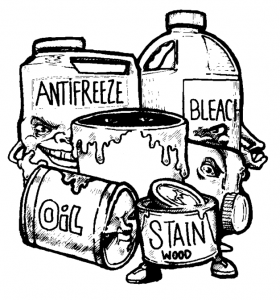 NHC residents, mark your calendars on March 30th for Household Hazardous Waste (HHW) Collection Day!  Be responsible when cleaning out your garages and houses by disposing of your Household Hazardous Waste (HHW) properly.   
By ridding of HHW the correct way you can help keep our lives healthy and natural resources safe.  If HHW is improperly disposed of it can pollute our streams, rivers, drinking water and groundwater, as well as interfere with treatment processes at the landfills and wastewater treatment plants.
In addition to the HHW collection, Iron Mountain will provide free onsite shredding for documents that you wish to be properly destroyed.
Items ACCEPTED at HHW Event:
Auto Batteries
Cell Phones
Household Cleaners
Fluorescent Tubes
Fuels
Fertilizers
Mercury (thermostats/thermometers)
Motor oil and antifreeze
Pesticides and herbicides
Electronics (TV's, Computers, etc)
Rechargeable House Hold Batteries
Smoke Detectors
Solvents
Items NOT ACCEPTED at HHW Event:
Ammunition
Appliances
Asbestos
Commercial/Business Waste
Furniture
Industrial Materials
Medications
Paint
Propane Gas Cylinders
SHARPS (hypodermic needles)
Tires
Trash
Visit New Hanover County for more information on the event and click here for more information on proper disposal of other household items. 
Posted in Events In Our Area on Feb 18, 2013