Home Color Trends for Fall 2011
Home Color Trends for Fall 2011
If you think color trends are only for fashion, think again. Designers have spoken and these are this year's hottest colors for Fall 2011 and Spring 2012.
Home Color Trends for Fall 2011
Written By Mary Beth Tice
It's official. I'm moving out of my parents' house and into my own apartment (again). The first time I moved out, I was young, naïve and not quite 20. And my personal style reflected it. Now at 27, I am ready for something a bit more grown up and less college dorm meets garage sale. So in finding my new paint colors, I did what any web-savvy girl would do: I googled "home color trends for fall 2011."
My 1960's Lime Green Velvet Sofa Still Works
I kid you not. In fact the color has a name and a Pantone number. It's Peridot, Pantone # 17-0336. Even better it works with my new favorite color, deep teal (think peacock teal) Pantone # 19-4914. Combine that with a neutral warm silver gray (Orchid Hush, Pantone # 13-3805) and I'm set!
Or to put it all together: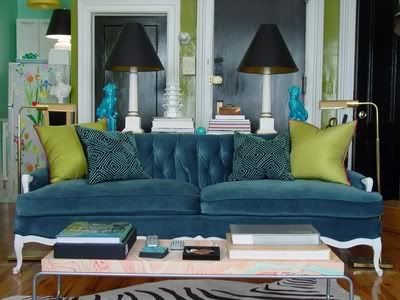 Green and Teal Not Your Thing?
Pantone's color of the year is actually Honeysuckle (Pantone # 18-2120). And yes, it's pink. But have no fear guys, this pink can be combined with many dark and neutral colors to add balance without being overpowering. The room pictured below is an amazing portrayal of how a manly gray and a feminine pink can work together without a power struggle.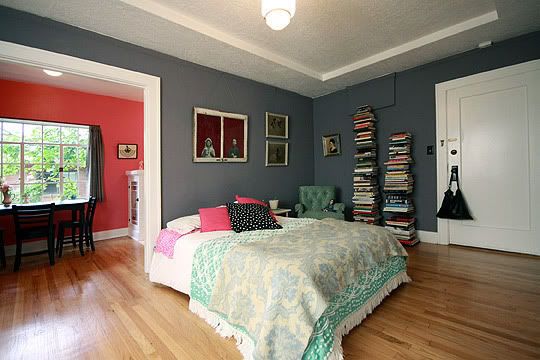 New Neutrals
Now, I already mentioned gray as a neutral and I am sure some of you still think of neutrals as only white, beige and tan. Fear not. Color has come to bring life into neutrals and take your room from Fall 2011 to Spring 2012 without missing a beat. Grays, soothing blues, teals and greens lead the way for a neutral, calming oasis in your home. Turquoise adds depth and drama to this color scheme come Spring 2012. To turn your bold colors into a soothing ocean of color for Spring, accessorize with bold accent pieces that can be packed up during the lighter, brighter seasons. Pillows, candleholders, lampshades, picture frames and blankets are all items that can be easily switched each season. Paint your walls a neutral gray and you will never have to worry about if your walls will outshine the new rug or drapes.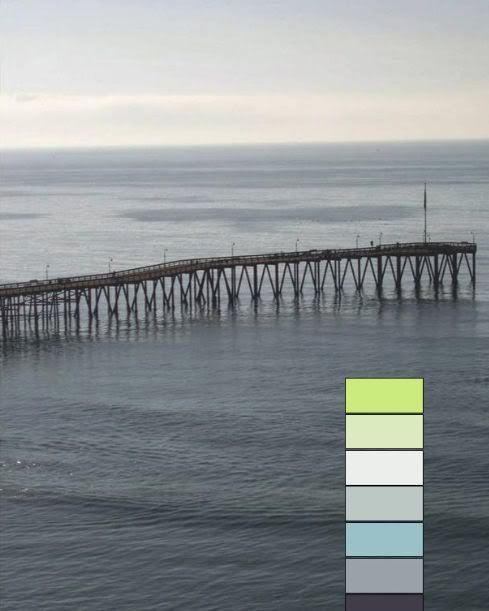 Coffee Liqueur (Pantone # 18-0930) and Nougat (Pantone # 16-1320) are two neutral browns that are trendy Fall 2011. To bring in balance, bold color and life, accessorize with Indigo (Pantone # 19-3215) or Garnet (Pantone # 19-1655). Come Spring 2012, switch your accessories for those favoring the colors Flamingo (Pantone # 16-1450) or Bittersweet (Pantone # 17-1663) (which goes great with Peridot, Pantone # 17-0336, AKA my lime green couch).






I'm not a designer. I have never claimed to be. But I do love a good trend and being fashionable in my clothing and in my home. The take away from this article is simple. Pick a neutral or two that you love (trendy or not) and use accessories that will allow you to update your space as often as your heart desires without repainting every six months.
Happy Decorating!
Resources
http://redoitdesign.wordpress.com/2011/04/12/2012-spring-color-trends-in-small-spaces/
http://www.apartmenttherapy.com/la/roundup/pantones-honeysuckle-in-house-tours-round-up-137786
http://www.pantone.com/pages/pantone/Pantone.aspx?pg=20834&ca=4
http://redoitdesign.wordpress.com/2011/03/28/2012-color-trends-home-interior-all-9-pantone-palettes/
http://redoitdesign.wordpress.com/2011/03/15/new-pantone-spring-summer-2012-color-trends/
http://redoitdesign.wordpress.com/2011/09/15/the-best-kitchens-for-best-budget-5-tips/
To Get Pantone's Color of the Year, Keep This Reference Sheet Handy!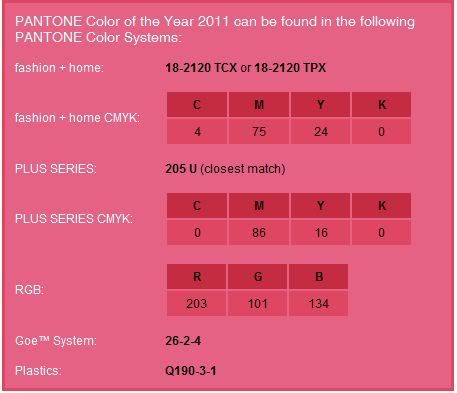 Connect with Team Gale!
Posted in Home Improvement on Oct 17, 2011