"FSBOs Hit Record Low for 3rd Straight Year..." (Inman News)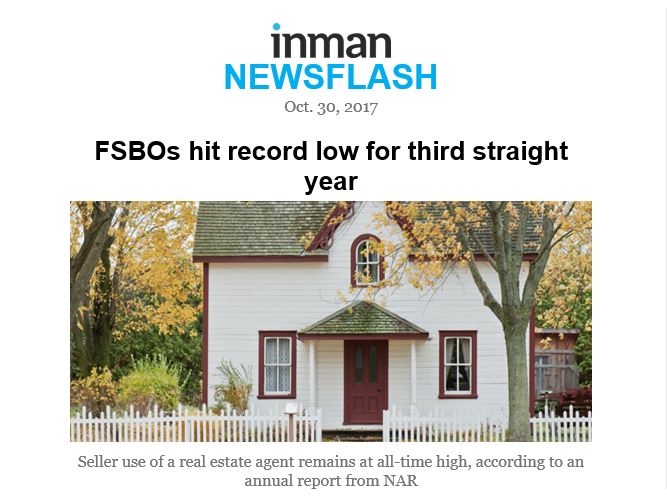 Team Gale captain, Tom Gale, had this to say after reviewing Inman's article:
Nearly all (94%) buyers work with REALTORS, so sellers realize that leveraging the 2000+ local REALTORS to help get their home sold by having their home in the Multiple Listing Service (MLS) is key. But beyond putting it in the MLS, experienced REALTORS have the knowledge to make sure the home is priced is right. They make suggestions on what repairs to make as well as providing names of quality, affordable contractors to do the work before it goes on the market. Once the offer comes in, a listing agent helps to get the best terms for the seller and helps to negotiate and oversee all the steps to get the deal to the closing table. Team Gale even allows clients to use our team moving truck.
Often times sellers don't realize everything that's involved until they're bogged down in trying to sell the home on their own. Unlike REALTORS, who can show your home while you're away, unrepresented sellers race home on their lunch break to let strangers in and often inadvertently scare them off as they escort them through their home. Most sellers that try to sell their home on their own break down and hire a REALTOR after about six weeks. Even the owner of ForSaleByOwner.com wound up hiring a REALTOR to sell his home. For those that do sell it on their own, it's much more time consuming, involved and stressful. In addition, as a part of my market research on the area, I look at what homes sell for and can tell you that many owners undervalue their home (or are poor negotiators), because I've seen the FSBOs that have sold for 10-20% less than what I could have gotten them for their home and it pains me to know that they could have paid me a commission and still put a lot more money in their pocket.
Not all REALTORS are the same. Some don't know the market. Some only do the three P's (Put a sign in the yard, Put it in the MLS, and Pray for it to sell) and sellers should avoid those subpar agents like the plague! A good REALTOR has the knowledge and tools to help get your home sold more quickly and for a higher price than you could do on your own. Even experienced sellers that have sold 10 or more homes don't know the market and trends as well as REALTORs that sell that many homes every month. People think that the internet has removed the need for a REALTOR, but in fact, it's the opposite. REALTORS are no longer the gatekeepers of information. The real estate websites have tons of information, but REALTORS have the knowledge and experience to interpret that information.
Posted in News You Can Use, Team Gale on Nov 01, 2017